Keeping an entire inventory at a consistent temperature is an energy & resource-intensive endeavor. Businesses that can successfully manage & overcome these obstacles avoid financial freezer burn.
Your goods or products may need a very specific onsite storage solution due to their size, shape or temperature requirements. If it's a requirement of your business or industry that your goods or products are kept in a cool or climate controlled environment, our high-density mobile storage solutions are right for you. Adjustable, extendable & fully customizable, these systems can accommodate a wide range of uses, from walk-in freezer rooms to cold storage facilities and other temperature-controlled environments.
There's always room to grow, even in the smallest storage facilities. Climate Controlled Storage Systems for industrial cold storage environments takes into consideration every aspect that goes into effective temperature controlled settings.
By adding Mobile Racking or shelving to a cooler or freezer you can store much more inventory in the same square footage. This reduces the need to build a larger cooler of freezer which can be expensive. In addition, a more dense mobile storage system reduces the utility costs for cooling the space as there is less space to cool.
Climate Controlled Storage Systems offers several unique features:
Fully customizable and expandable compact space saving design, which allow for many options & upgrades to suit most cold storage applications
Benefit of various controls, technologies, remote features & safeties such as Smartphone remote control, automated aisles mobile system, automated ventilation mode for added security
Better inventory management since pallets can be easily located & accessed, which provides better stock management & rotation
Increased warehouse efficiency results in a higher return on investment
A customized storage system which meets your specific health & hygiene conditions requirements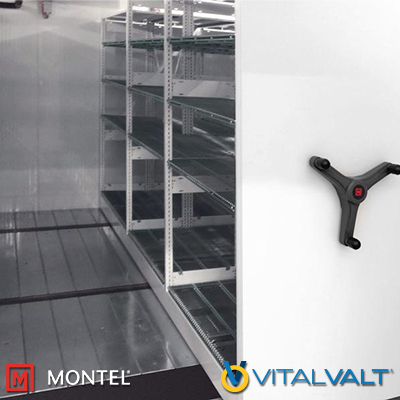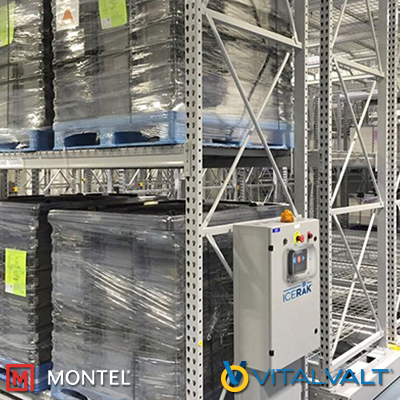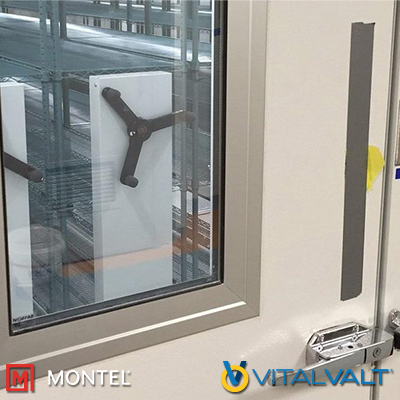 MAXIMIZE YOUR CUBIC FOOTAGE & SAVE ON ENERGY COSTS
Recover pricey wasted cooler or freezer space
Reduce energy costs
Reduce travel distance & handling time
Increase labor productivity
A cost-saving solution – as system is designed to mount on existing shelving or racking

WASTED SPACE CONVENTIONAL FIXED RACKING LAYOUT
MAXIMIZE STORAGE WITHIN THE SAME FOOTPRINT
With our space-saving solutions, optimize your production, storage, shipping and receiving with compact high density storage systems. In a snap, our shelving and storage solutions can adapt to fresh, frozen or canned foods. Challenge heat with our mobile storage systems designed for cold rooms. Create a safer environment that meets the highest sanitary standards with our easy-to-handle industrial systems, including rugged pallet racking.
Customize your storage system with all that VitalValt has to offer!
Our experienced Sales Team and CAD Design department can create a custom layout with a comprehensive quote for the storage solution to suit your specific needs.


Call or email us today for a free survey on how you can save time, space, and become more efficient with your file storage.