Our selection of carts provide enhanced functionality, effective mobility, elegance, and sturdiness, to an array of environments, whether medical, educational, commercial or industrial.
In an innovative leap forward from standard cart solutions, not only does it transport tools, parts and other items, it also functions as a small portable workstation. Many configurations are possible, ranging from minimalist to fully equipped. You can also install a wide range of accessories to keep whatever you need close by and conveniently organized.
All models can be fitted with a PVC mat, while carts with drawers feature a lock-in mechanism to prevent them from opening by themselves, and the covers include a lock. Heavy-duty and maneuverable, our carts are the ideal companion to help you perform your daily tasks.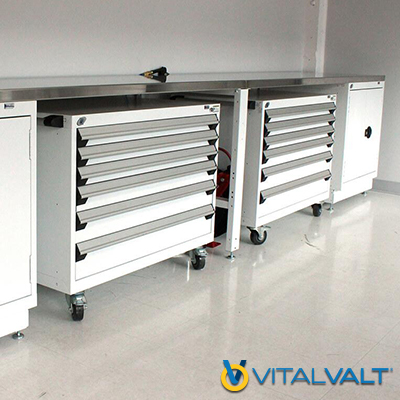 Offered in various shelf sizes and models.

Durable powder-coat paint finishes, preventing marks and scratches.

Our carts feature maximum strength and durability for supporting heavier loads.

The carts heavy-duty casters allow easy transport in any environments.

A wide range of accessories to ensure that everything is at hand and to perfectly meet your requirements.
Page ID: 10086