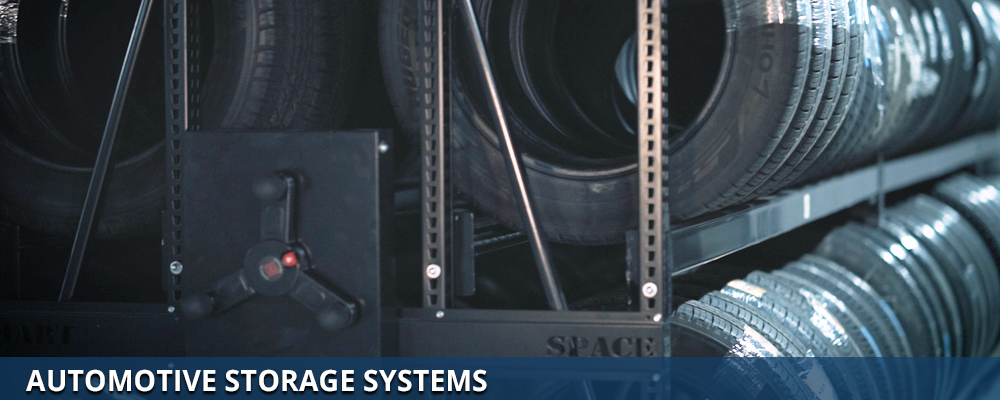 Today's Automotive Dealers needs have changed. There is a high need for secure storage of accounting files due to the Patriot Act and equally high need to access parts quickly while doing both in less space. Automotive Dealers have the similar storage requirements but each of these are in their own rooms but each require special planning and design.  We help our clients expand their parts and service storage while streamlining operations and increasing productivity.
Automotive Storage Systems
Mobile Shelving Systems, Vertical Carousels & Rotary Files
File and box storage are best stored & secured in stationary storage shelving, mobile storage systems or rotary files. Capturing unused vertical floor space with Vertical Lift Modules & Vertical Carousels for small parts, tools, bench stock and heavy duty items will open up space for more repair bays giving the dealerships more income per bay and ROI takes less time. Vertical Carousels can also be outfitted with video cameras to prevent part loss.
Tire Storage Racks
Racks for over size items like tires and windshields to pallet racks for bulk storage are available.
Modular Drawer Storage
Modular Drawer Storage is used by the technicians in each repair bay. Tools and small parts are secured, organized and stored using modular drawer systems. This prevent loss and/or misplaced tools and equipment. Modular drawers are available in cabinets (fixed or mobile) and also in shelving integrated with storage shelves.
AUTOMOTIVE PARTS MOBILE SHELVING STORAGE SYSTEM
AUTOMOTIVE VERTICAL CAROUSEL