Smead ColorBar Software will be discontinued as of July 1, 2023.
The discontinuation of Smead's ColorBar Express software, labels and support will leave many users in a difficult situation requiring a Smead ColorBar Express Alternative.
Smead ColorBar Software was a digital tool developed by Smead, a company known for its office supplies and organizational products. ColorBar Express was designed to help users efficiently create color-coded labels for their filing systems.
Smead ColorBar Express Alternative!
We offer the software, labels and the ability to convert/match existing Colorbar Label designs into Virtual Labels designs. ASAP!
Virtual Labels is an excellent alternative as it allows you to create side, end and top tab folder labels. It provides the best visual identification and organization of files and documents. Users can input text, select the desired colors and design the layout of the labels according to their preferences. The label design capabilities are unlimited.
Let us help you compare features, ratings, pricing, and more from Smead ColorBar competitors and alternatives in order to make an informed decision for your business.
We are currently offering our customers a

LIMITED TIME DISCOUNT


to transition labeling platforms.
Contact us now for more information!
VITAL VALT FILE CONVERSION SERVICES
Vital Valt offers File Conversion Services to convert filing systems from files in drawers to files in shelving. Vital Valt will work with you to analyze your current filing system and recommend a system based on needs and potential benefits for switching to a new system.
Our File Conversions specialist will implement the new system saving countless worker hours during the conversion process. Our service bureau converts top-view folders to side-view folders, taking paper out of old folders and adding them into new folders, organize file partitions by adding paper to file fasteners and file clips, and also adding labels to file folders. We convert file labeling systems to alpha, numeric, alpha-numeric or terminal digit.
We also offer File Folder Relocation Service that provides file transfers or file merges in-office or to a new facility. Vital Valt provides the file folders, supplies and the service for professional file conversions. Also now available using labels with bar codes and RFID to implement file tracking during the conversion process.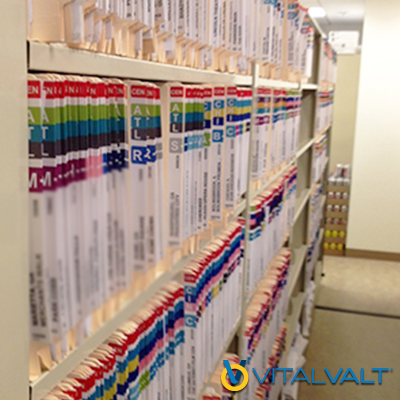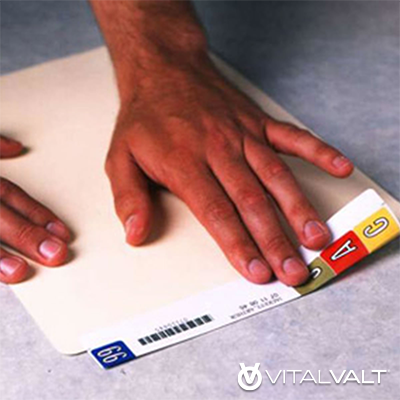 Let our experienced Team help service all your filing needs!


Call or email us today for a free survey on how you can save time, space, and become more efficient with your file storage.