Our Modular Casework – Cabinet Systems are comprised of  base cabinets, wall cabinets, corner cabinets and storage units. The casework is designed like furniture with the ability to be customized, modified, relocated and reused while maintaining the look of built-in millwork cabinets. Unlike traditional millwork casework and built-ins, you can reconfigure modular casework if you need to relocate or rearrange, making it an excellent option for businesses concerned with their environmental footprint.
Our Cabinet Systems gives you the flexibility to create a customizable setup that meets your specific needs. It keeps inventory out of sight while ensuring essential items are within easy reach for maximum efficiency and functionality.
Our line of Cabinet Systems range from base cabinets, wall cabinets and corner cabinets cabinets to hutches, lockers, cubbies and mobile solutions. We design solutions for education, healthcare, laboratories and commercial environments. If your project needs a more creative solution – chances are we have already designed it – or we will customize it for you.
Benefits of Modular Casework – Cabinet Systems
Ease of design
Quick turnaround and installation.
Precision manufactured to industry standard cabinet sizes. Cabinets are designed and constructed with built-in adjustability and changeability of components for flexibility ease of replacement should damage occur.
Eco-friendly: Casework is reusable and designed with recycled content where applicable.
Sustainable: Movable casework is LEED and Greenguard Children & Schools certified.
Lifetime warranty
Cost-effective: Since movable casework is reusable, it continues to pay for itself each time you reconfigure or move your cabinets.
Standard custom designs: Movable casework uses a wide range of standard components, accessories, and finishes that allow you to customize the design of your project to your exact needs.
Modular Casework – Cabinet Systems – Components 
Base cabinets are one of the fundamental units of modular casework. Our base cabinets have many options – doors, shelves, drawers, vertical slots, wheels and/or sorters.
Our standard line offers hundreds of height, width and depth variations. Cabinet bodies, doors and kickplates may be made of any combination of laminate, powder-coated steel and stainless steel. Standard materials for our worksurfaces include HPL laminate, phenolic resin, stainless steel, marmoleum and solid surfacing. We provide a wide selection of locks, hinges and handles. In addition to our standard offerings, we have significant experience working with specialty finishes, hardware and surfaces.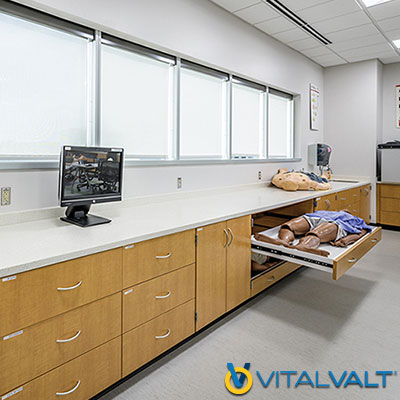 Our wall cabinets may be safely secured to base cabinets, islands or consoles. We also have a rail and bracket procedure for securing them to the wall. As well as seismic options.
We offer a wide selection of standard sizes and options for doors, shelves and sorters. There are many standard choices in hardware and finishes.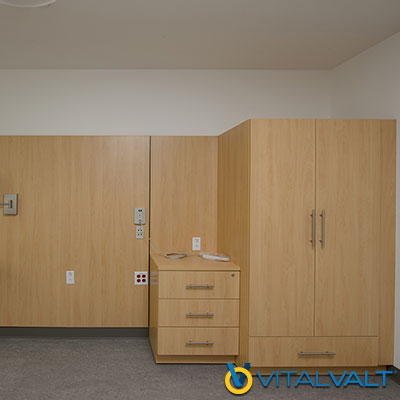 For a true built-in look, corner cabinets can be added as filler pieces for use with base and wall cabinets.
Laminate casework is most often seen in lockers, offices, pharmacies, research centers, schools, school labs, mailrooms and copy rooms and sorting applications.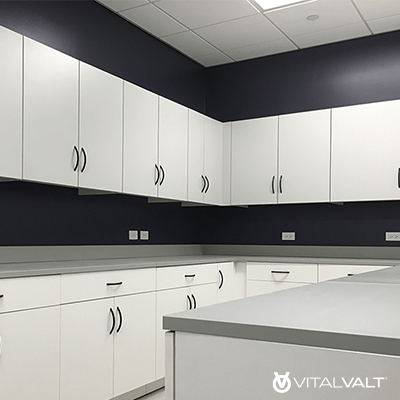 Our Storage Cabinets are available in hundreds of height, width and depth variations, door options, many different shelving types and sorters of all sizes.
Choose from the many standard choices in hardware and finishes or customize to match your space.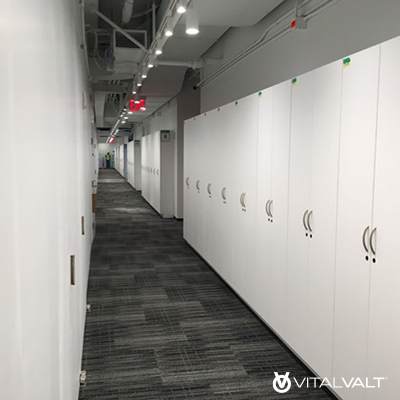 Call or email us today for a free survey on how you can save time, space, and become more efficient with your file storage.