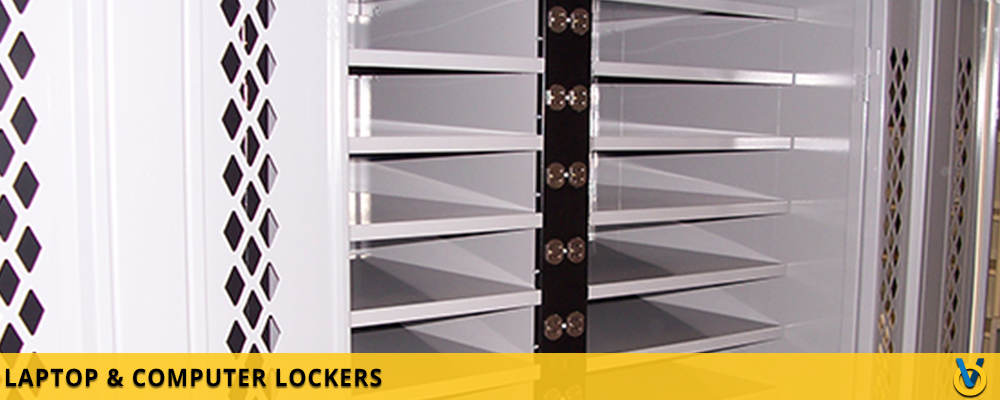 Keep devices charged, secured and managed with our Laptop & Computer Lockers.
Secure Laptop & Computer Lockers store and charge laptops, PDAs, cell phones and tablets securely. With power available to charge multimedia devices and a roll-out workshelf, these fully welded lockers offer the perfect solution for secure laptop storage.
Choose from either our 72″ high unit which features 32 openings or our 42″ high unit which features 16 openings. Both electrical power strips feature a power switch and a 15 amp circuit breaker with a reset button as well as perforated doors to allow heat to dissipate, providing a safe environment. Lockers are constructed with adjustable device slots, allowing for various devices to be stored and charged at one time for mass device upgrades. Notched hooks make it easy to organize cables and position cords neatly above devices. Customizable casters can be added to the locker to increase mobility.
Safeguard and manage all electronic mobile assets with our RFID Asset Tracking Software. Our cloud-based asset management software allows you to provision, access, view and manage usage activity.
Available Sizes: Height 42" & 72"
Welded Construction
Adjustable Shelves
Three-Point Locking Mechanism
Perforated doors allow heat to dissipate
Electrical power strip features
15 amp circuit breaker with a reset button
Pull-out reference shelf
(8) duplex outlets on 42″ cabinet
(16) duplex outlets on 72″ cabinet
Available with or without a caster kit
Our experienced Sales Team and CAD Design department can create a custom layout targeting your specific needs with a comprehensive quote for the storage system to suit your business.
Please contact us for more information!