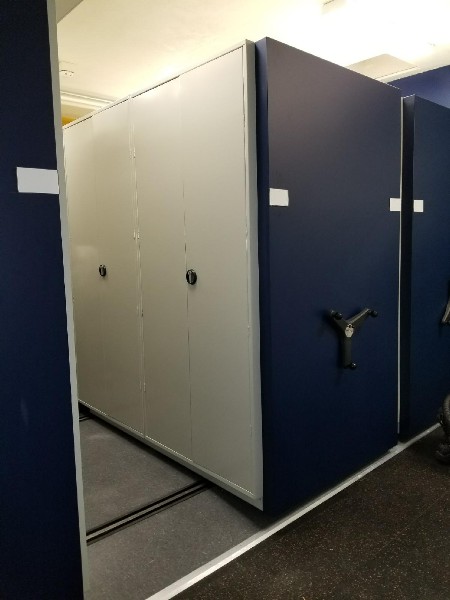 Athletic Departments at Universities, High Schools and also for Professional Sporting teams must store equipment broken out and also boxed with various shapes and sizes including helmets & shoulder pads for football, jersey's, shoes & socks for all teams, baseball gloves, bats and helmets.
Mobile Storage Systems with locking doors help secure a wide variety of athletic gear securely. Pictured below is a recent Southern California Athletic Equipment Storage installation.
Secure Athletic Equipment Storage Southern California
With the high cost of athletic gear, Secure Storage Solutions are a must to provide secure storage protecting valuables. Securing sections of shelving with doors allows for inventory control in addition to securing high profile gear.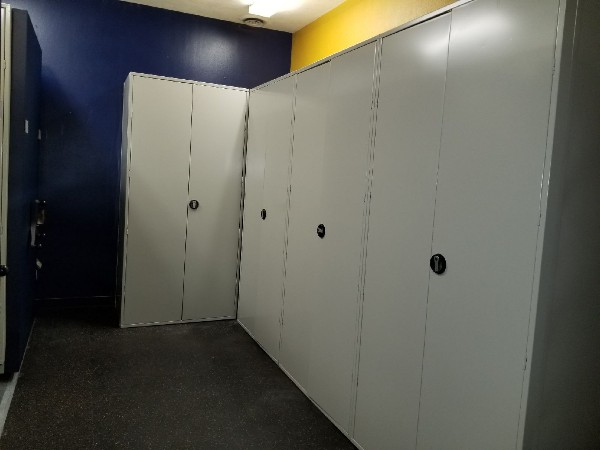 Security Cages are also available to enclose spaces within athletic departments. Security cages are built to size, meaning your space can be configured as needed with cage doors available as hinged doors, sliding doors and enhanced security options with HID card readers available as an option. This level of controlled access maintains security and inventory control within athletic departments.
Modular Shelving with drawers allows items to be spread out and separated by drawers where shelves work better for larger gear. Modular shelving with drawers are available in several drawer heights and widths with drawers configured with front to back partitions and cross dividers.
High Density Mobile Shelving is commonly thought of for only file storage. Lets put that misnomer aside and look at moveable carriages as something that can compact aisles in any storage space environment where fixed storage would require additional floor space. Wide span shelving, shelving with hangar bars, shelving with drawers as noted above, shelving with bins for helmets, and lots of other shelving configurations allow us to design a mobile storage system that adequately stores all athletic gear with security doors or system locks providing that layer of security to control access.
Call Vital Valt for a survey of your athletic department's storage needs. 800-699-1191