Maximize ROI on Mobile Storage Systems by utilizing all available space, increasing storage capacity and free up room for production or other uses. These systems save up to 50% of your floor space, in most cases, and accommodate growth for other uses while increasing revenue.
An investment in the right mobile storage is never a sunk cost. The best mobile storage solutions will not only make your money back in a flash. They will also empower your operations, support value-added opportunities, and prevent you from wasting money elsewhere.
High Density Mobile Storage Systems concept is to create collapsible aisles with carriages that roll from side to side in your space, minimizing the amount of aisle space required with traditional fixed storage shelving. There are 3 ways to operate mobile shelving systems and create access aisles, manually with a fixed handle, with a mechanical assistance 3 spoke ergonomic handle or electrically with the push of a button. With a turn of a handle (mechanical-assistance), a push of a button (electric) or a gentle push (manual), a high density mobile aisle movable storage system will greatly increase your storage density & reduce the footprint of your storage.
Contact us now and our team can calculate your ROI on Mobile Storage Systems and discover how a Vital Valt System can maximize your space and space efficiency.
MAXIMIZE ROI ON MOBILE STORAGE SYSTEMS  –  SAVE SPACE, TIME & MONEY
Conventional storage systems require space-wasting fixed aisles.
In most cases a mobile storage systems save up to 50% of your floor space.
100% greater storage capacity within the original floor space, eliminating the need for a costly expansion or the construction of a new facility.
Reclaim space otherwise occupied by aisles that more often than not go unused.
Mobile Storage Systems can either shrink the overall storage footprint to allow for greater on-site operational freedom or effectively double a company's storage capacity without physically expanding.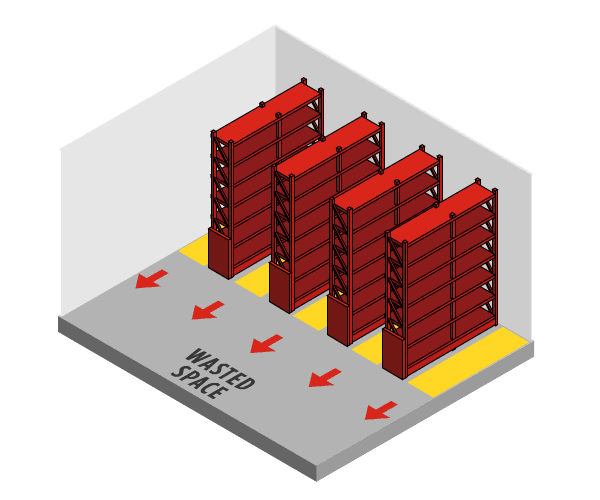 By mounting shelving units on movable carriages, this system eliminates the need for multiple aisles. You can utilize your existing shelving or storage cabinets with the High Density System or select from a wide range of storage options. Then – with a push of a button – access the specific area needed.
Mechanical Assist Mobile Shelving Systems give you the flexibility to customize your shelving while optimizing your capacity. Whatever your industry, and whatever you need to find space for, Mechanical Assist Mobile Shelving Systems will make the most of your shelving capacity.
Manual Assist Mobile Shelving Systems are a simple and cost-effective storage solution. The systems slide on fixed tracks which have been carefully designed to ensure the smoothest motion. Multiple panels can be pulled out at once, making these products far more practical and efficient than systems that only permit access to one panel at a time.