Vital Valt's Locker Solutions have a wide variety of features and functionality. They can be used in many different applications:
mail / packages
digital devices – laptops, phones, etc.
athletic items
house electronics
personal items
weapons
uniforms
perishable goods
and many more…
Our locker solutions are designed to accommodate all of the expected features – shelves, hooks, door slots, ventilation, multiple battery and powered-lock options, custom sizes, and more. Laminates and other finishes can be matched to your design – or – configure the lockers in different heights and sizes to create a unique focal piece.
Lock options are what sets us apart from others. We have a variety of keyless, RFID, and PIN-activated lock options, depending on your needs and the technology integrations of your space.
Secure storage
is what we strive to assist our clients in all areas of their business.
Whether you need secure employee locker storage, athletic lockers, parcel lockers, laptop lockers or smart lockers – Vital Valt has a locker storage solution for you.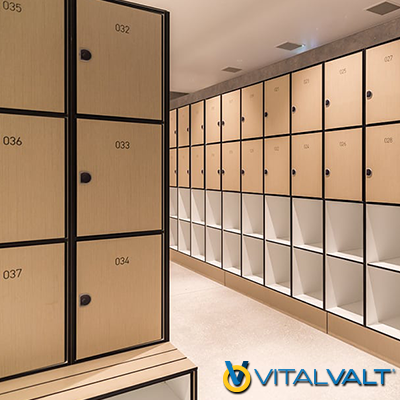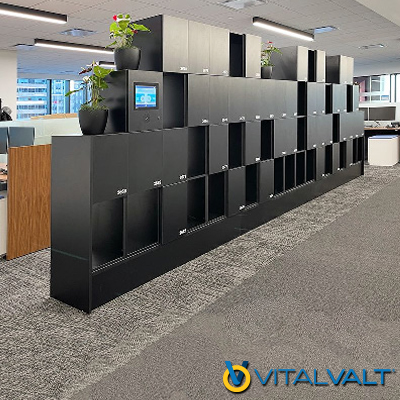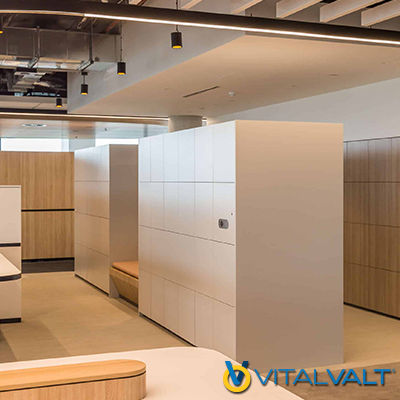 Our Athletic Storage Lockers are extremely versatile & customizable. Choose from: single or double tier compartments, Z-combination lockers, lockers with large or small compartments, matching bench solutions, laminate lockers, steel lockers & more.
These systems support spaces such as team rooms, locker rooms, equipment rooms, staff offices, trainer rooms, maintenance storage rooms & laundry rooms.
Ensure & maintain chain of custody by choosing our customizable Evidence Lockers. Each unit can be configured differently with various size compartments & are also available with a refrigerator insert.
Pass-Thru Evidence Lockers – are built into the wall of a department, allowing evidence to be deposited on one side & retrieved from another
Non-Pass-Thru Evidence Lockers – items are deposited & retrieved from the same doors, and can only be removed by authorized personnel.
Designed to store weapons, ammo, helmets, boots and military combat gear safely & securely, our Gear & Tactical Readiness Lockers offer flexible solutions for all storage requirements.
Also known as TA-50 Lockers – they are one type of gear lockers available for duty storage requirements. Army Brigades, Battalions and Company units rely on TA-50 Gear Lockers to store gear securely where many lockers are required.
Gear & Tactical Readiness Locker Key Benefits:
Heavy-gauge steel & all-welded construction offer durability & security.
Vented top & bottom compartments permit airflow – essential for equipment & weapons.
Drawer options roll-out for easy access, while the top compartment is equipped with heavy-duty shelving, hooks, hanger bar & functional back panel for storing weapons & accessories.
Our Laptop / Computer Lockers provide secure & convenient electronic storage for office, home, hotels, educational, government &/or institutional use.
Protect your technology & intellectual property with our durable & secure steel lockers. Charging abilities & RFID tagging options are available to customize your storage needs.
Intelligent & secure Parcel Locker System for package delivery & collection, with 24/7 access from any delivery source & customizable permissions.
The Parcel Locker is a modular & expandable solution can be located in office buildings, residential buildings, schools and/or retail locations. They are available in all shapes and sizes to accommodate product and parcel size and dimension but can also be customized to maximize space utility.
We offer Personal Storage Lockers that are perfect for employee lounges, locker rooms, open offices, concert venues, stadiums or any space where secure storage is needed.
Also known as Day-Use Lockers / Event Lockers / Cell Phone Lockers these items can be customized in any size, color, laminate, wood &/or steel. As security is key (no pun intended) – there are many lock options to choose from: standard lock, biometric lock, key fob, fingerprint… etc.
Temperature Controlled Lockers ensure your storage is not exposed to fluctuating temperatures & preserved properly. Our climate controlled storage lockers are perfect for environmentally sensitive items such as: biological samples, evidence, antiques, artwork, perishable items, records, electronics, etc.
Today, employees are having their packages shipped to their work address – rather than their home address – due to issues of stolen goods &/or perishable items. Corporations now need to implement
employee lockers
to control & store these packages. These locker systems must be Temperature Controlled – as shipments may be prescriptions, food &/or any other perishable good. These items can stand alone or be incorporated into standard locker system configurations & are monitored in real time to ensure that temperatures are always within range.
What's your company doing to protect yourself from your employees personal items?
Tenant Storage Lockers provide sturdy, secure storage for apartment, condominium and business tenants. Composed of heavy-gauge welded wire mesh, our lockers are extremely sturdy, secure & can be configured to meet your unique needs with maintenance-free performance. The modular design of these systems makes these lockers easy to plan, install and relocate.
Storage Lockers are an economical bike storage solution used in residential towers and office buildings. Manufactured to-order and assembled on site by our expert installers, our lockers comply with most municipal bike and storage codes.
Standard locker doors come equipped with bolt-on padlock hasps that allow adjustability to combat unlevel floors. As secure storage is our specialty – we offer many lock & security options: digital locks, touch-panel locks, mechanical locks and more. Residents can trust that their belongings are safe with our locker systems.

Call or email us today for a free survey on how you can save time, space, and become more efficient with your file storage.