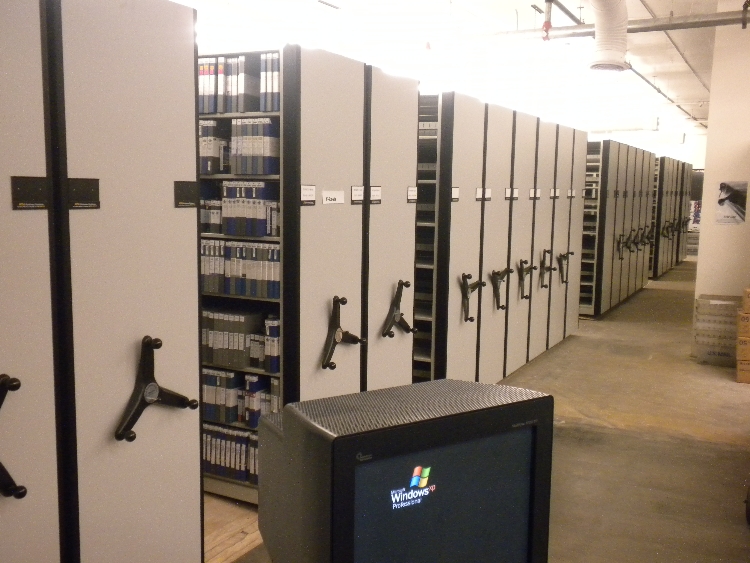 Los Angeles is home to the movie studio industry with many film vaults or tape vaults storing all types of media, old and new in shelving systems. Los Angeles Movie Studio Tape Vault Shelving systems are available with static, fixed shelving or also on mobile carriages to compact the floor space and store a higher volume of media.
Storing large volumes of media requires a large footprint and with space at a premium in the Hollywood area on movie lots, film studios and production company's, compacting aisles with High Density Mobile Shelving makes the most sense to save floor space and max out media storage capacity.
Los Angeles Movie Studio Tape Vault Shelving System
With security of the utmost importance to protect media, High Density Mobile Shelving System's can be provided with system locks that lock down the entire shelving system. There are also options available with Electric Mobile Shelving Systems where access can be controlled for each aisle within the system adding another unique layer of security to your Movie Studio Tape Vault Shelving System.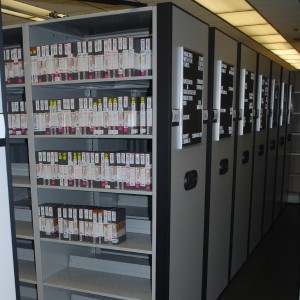 High Density Mobile Shelving is commonly seen throughout offices for file storage and supplies but in larger spaces provides extreme storage density for all media types. With a phone call you can schedule a site survey for your Movie Studio and a free no obligation proposal. Additional layers of security as noted above include aisle locks to secure individual aisles within the mobile shelving system, doors for individual or ranges of sections which is used for specific projects.
Security Cages are also available to enclose spaces within Tape Vaults to cage the entire shelving system or for individual cages for each project needing security. Movie trailer film storage is commonly stored separately with extra layers of security to keep future projects secure.
Call Vital Valt for a survey of your Tape Vault's storage needs. 800-699-1191