Vital Valt provides safe and secure solutions that can help education facilities open safely and responsibly. We create strategies to de-densify existing spaces, rethink underutilized space and incorporate solutions to support the new guidelines in education.
As educational spaces and structures begin to get back to school, here are some possible strategies to consider:
Space Planning to observe distancing guidelines
Modular Casework for reconfigurable room design
Built-in storage for sanitation and hand sanitizing
Space Dividers, Desk Dividers, Sneeze Guards – etc.
Our clear, plastic space dividers (desk dividers, sneeze guards, privacy screens) help to create spaces that are protected yet still maintain visibility. The mobile divider provides see-through protection for guests, employees, students and more. These are ideal for use between workers on assembly lines, students in class, customer facing positions or anywhere needing protection that is easy to disinfect on the fly.
Our full line of Space Dividers helps to create separate workstations to maintain social distancing, while also maintaining a collaborative space. These dividers can be fully customized to fit into your existing space, which makes them a quick and effective solution.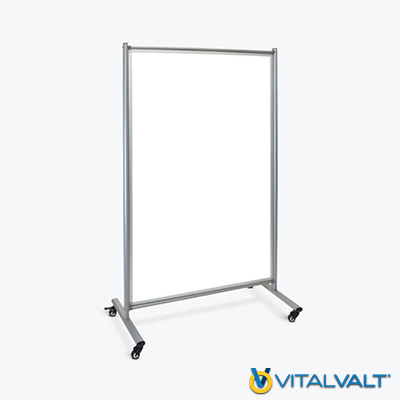 We have decades of experience delivering labs, classroom cabinets, lockers and mailrooms to schools and universities. Our vast selection of products, dimensions, doors, handles, slides, locks, and finishes make it easy to create a system that meets the functional and aesthetic needs of your workspace.
Modular Casework is a great solution for educational facilities because it is quick to install and easy to reconfigure. Instead of built-ins, you can make decisions for new storage solutions that are flexible and can adapt to your needs.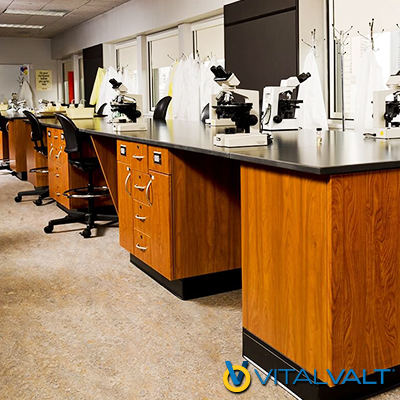 Creating locker storage systems in schools can cut back on person-to-person contact and do away with long lines. 
Our lockers come in a wide variety of sizes, configurations, laminate choices (including anti-microbial) and locks. We offer RFID locks – that make our lockers practically touchless and students are able to open their locker with a badge, phone and even wearable.
Integrating software, networking and locking devices, this solution enables secure storage and tracking of valuables.
Educators will need to rethink how to leverage school and classroom space design to create a safe learning environment that will enhance learning outcomes.
Strategies include:
Repurposing larger unused spaces
Limiting classroom and meeting room capacity
Adding barriers
Changing the configuration of desks to observe distancing guidelines
Let Vital Valt help provide flexible spaces that will support a safe and responsible reopening of educational facilities.
Our experienced Sales Team can provide the
information & navigation needed to create a safe space.

Call or email us today for a free survey on how you can save time, space, and become more efficient with your storage.