We offer a complete and comprehensive line of standard products but we do not stop there. We can also modify standard pieces or build custom. We possess every capability to deliver the perfect fit for your project. Choose from a variety of Freestanding Modules to create your perfect storage system.
The options for Freestanding Modules include but are not limited to:
Wall Cabinets
Corner Cabinets
Base Cabinets
Storage Cabinets
Sorters
Tables
Each self-contained unit offers high-density storage without taking up too much space. Shelves come in four different sizes and are fully adjustable in 1′(in). increments. Freestanding modules are perfect for specific storage issues, small spaces and growing companies. Reconfigure – add – subtract any one of the modules to create your perfect environment.
Freestanding sort modules are designed to provide for maximum sorting capability in a minimal footprint. Freestanding sort modules vary from mail room sorters that sit atop console tables in that they are indeed freestanding with options to include a work shelf for filing and retrieving mail.
Mail Room Sort Modules can also be wall-mounted and are available in a range of sizes and colors. They are fully adjustable in 1″ vertical increments and are available in 3 or 4 column configurations, widths between 36″ –  56″ and heights from 48″ – 76″. Supports standard, legal and oversize shelves. Freestanding sort modules or literature racks are also available with base cabinets below for storage of packaging materials.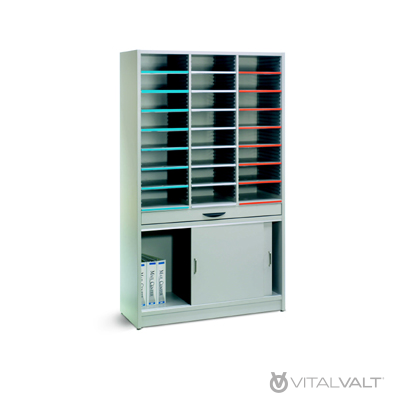 Satellite Mail Stations divide mail and document distribution across departments, floors or even separate campus locations. A wide variety of laminate selections and the ability to option-in custom accents provide a front office look to your interdepartmental and satellite mailing operations. Also can double as support stations for copy machines, network printers, fax machines as well as collating and preparation stations.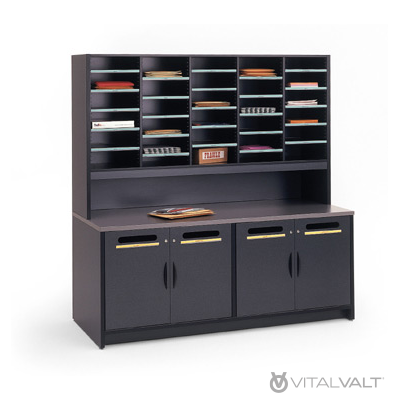 More Mail & Document Storage Products
More Modular Casework Applications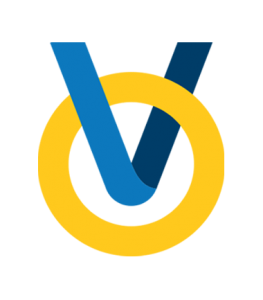 Our experienced Sales Team and CAD Design department can create a custom layout targeting your specific needs with a comprehensive quote for the storage system to suit your business.  Please fill out our feedback form for more information.
Page ID: 8103