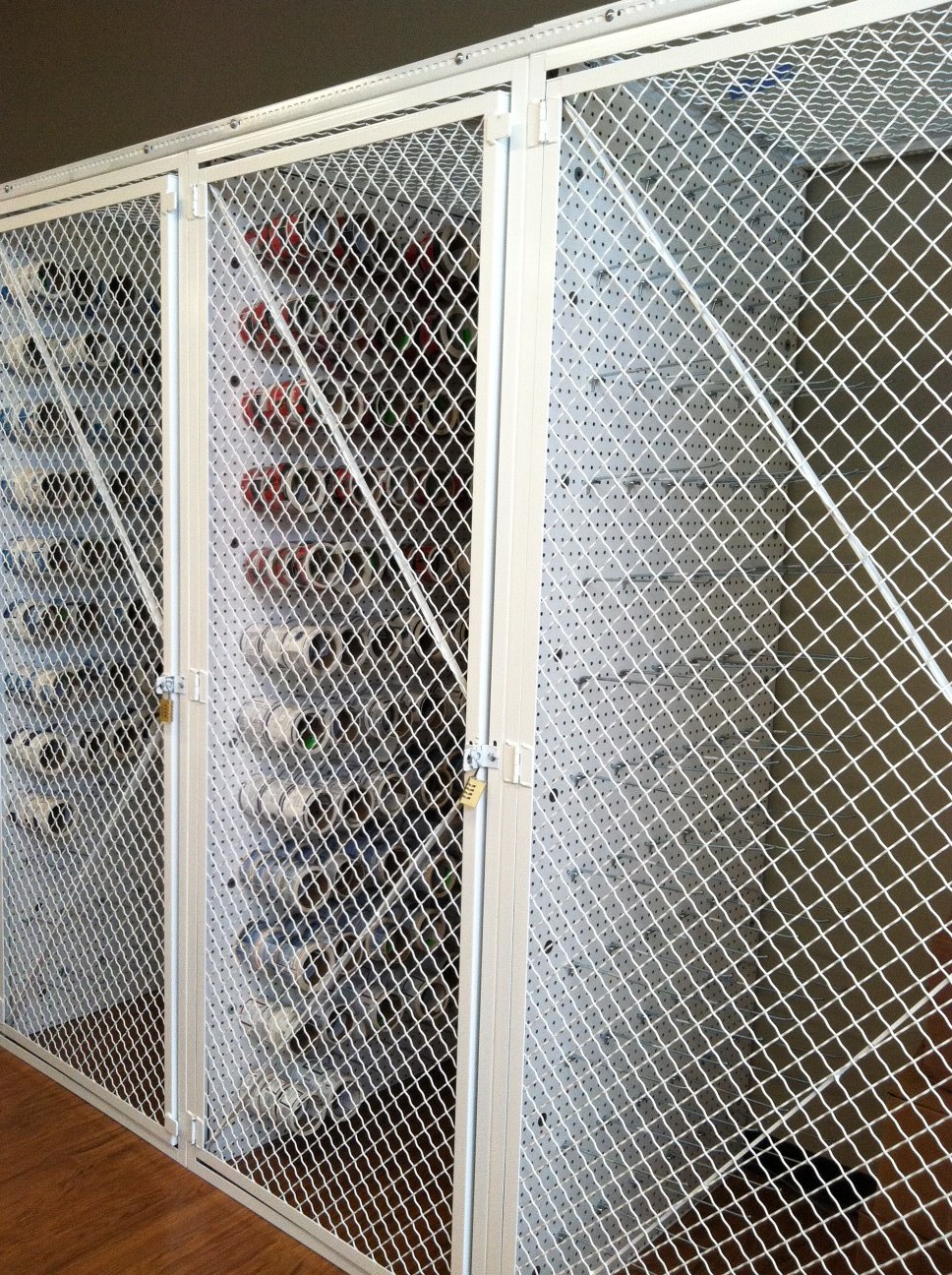 Wire Security Cages are available as woven or welded wire options with various gauges of steel depending on your security application.
Woven Wire panels are constructed from 10 gauge diamond or square pattern wire with up to 6 gauge welded wire cages and partitions also available. Section 10605 and meet or exceed Woven Wire Products Association's recommendation. Woven Wire panels are utilized in armories and warehouses on military bases and law enforcement facilities, and in businesses looking for secure fenced in cages. Wire partitions and panels are also used in offices to secure spaces requiring additional security such as supply storage, sensitive item storage and many other applications.
Vital Valt offers turnkey projects from concept to Design, Engineering, Manufacturing and Installation. Options from vertical partitions, two sided, three sided and full sided cages with either hinged or sliding doors allow secure spaces to be created within an existing footprint.
Installing Wire Security Cages will give you peace of mind in knowing that it provides
Wire Security Cages Security
Woven Wire Partitions provides a secured enclosure for your valuable assets. Access doors can be equipped with Card Reader, Panic Hardware, Lever Locks to meet ADA requirements or any other state of the art locking devices.
Wire Security Cages Strength
Constructed with heavy duty #10 gauge wire diameter (woven wire), intercrimped securely woven in diamond patterns to provide rigidity, stability and strength and also available with 8 gauge welded wire, with each cross section welded together for added rigidity.
Wire Security Cages Durability
The most durable and virtually maintenance free wire partitions.
Wire Security Cages Versatility
Modular panels allows fast and easy installation with variety of options such as Service Window, Bi-Parting door, Swing or Slide doors, Self Closing Doors, Vertical Lift Door. Expansion or layout changes can be easily accommodated.
Wire Security Cages Efficiency
Woven Wire design provides visual security, easy access for fire protection, while allowing an obstructive flow through for existing sprinklers or HVAC systems.