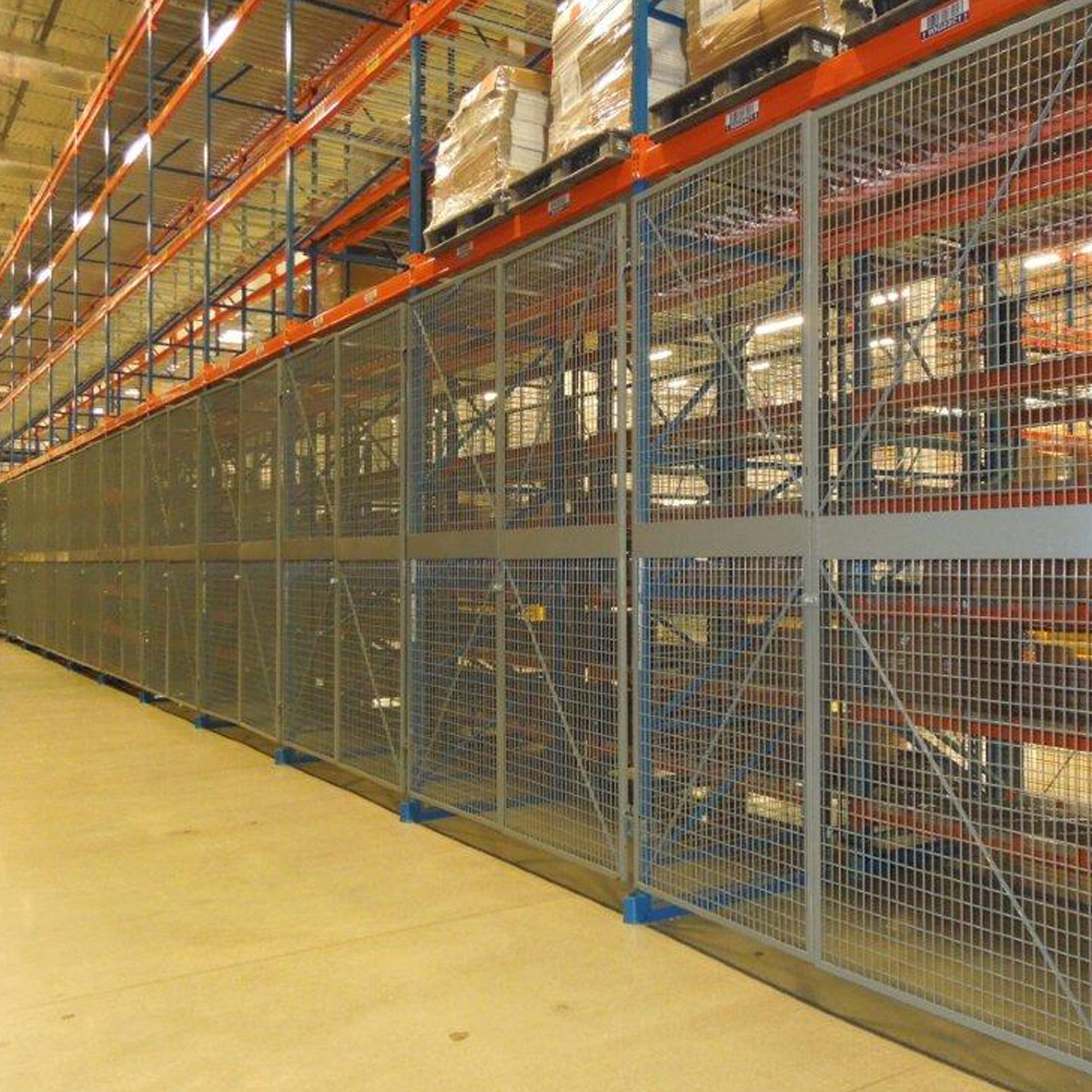 How do you secure individual or strategic runs of warehouse pallet rack systems?
Pallet Rack Doors or pallet rack enclosures provide essential safety for your pallet racks and shelving with simple, yet durable design – Helping to keep your employees safe and productive.
Pallet Rack Security Enclosures not only help prevent costly accidents in and around your pallet racks and shelving, it also secures pilpherable & high value product.
Standard enclosures are readily available for quick shipment in 36″, 48″ and 60″ heights and 84″, 96″, 108″, 120″, and 144″ widths as well as non-standard sizes with manufacturing lead times.
Pallet Rack Doors Simple design
allows us to provide a wide variety of sizes to fit your structures
Pallet Rack Doors Easy installation
installs with sturdy mounting brackets, in many cases easier to install than netting alternatives
Pallet Rack Doors Less maintenance
durable panels don't need to be replaced often like netting or single beams
Heavy-duty: unique welded design uses 6-gauge welded wire unlike competitive woven products on the market

Panels are manufactured using 6-gauge, 2″ square pattern welded wire steel mesh. Mesh is resistance welded at each intersection to insure overall product uniformity, strength, and integrity. 3/8″ slotted holes are punched in a 1 1/4″ x 1 1/4″ x 1/8″ steel angle frame, with joints mig welded.
Hardware
All mounting hardware is provided and installation is available
Panel Brackets are designed to attach to almost any style of rack upright. U-Bolt hardware makes it possible to mount to either open back type or tubular type uprights. The brackets are made with telescopic post material, which provides multiple adjustment positions. Brackets are heavy duty to ensure a secure assembly to each panel. Both single and double sleeve adjustable brackets are available.
Extension posts are available and extend 4′ above height of upright.