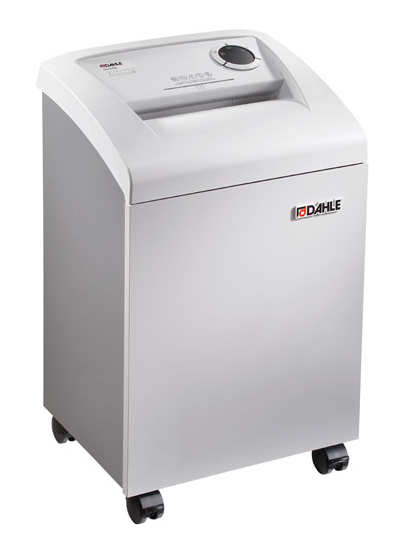 Proficiency best describes this Dahle Small Office Document Shredders with its ability to get the job done quickly and easily with minimal effort. Small offices or teams of employees will benefit from the ease of use and quiet operation of this small to mid-size shredder. It's perfect for destroying personnel records, client proposals and tax information.
Dahle's models offer various feed openings to accommodate both letter and legal size paper with ease. This strip-cut machine offers a 1/4″ particle size and is able to shred to security level 2-7 standards. All you need to do is decide what document to shred and this Dahle Small Office shredder will take care of the rest.
This shredder features Automatic On/Off operation that uses an electronic sensor to turn the machine on. All you have to do is position your document in the feed opening and the shredder will take care of the rest. Bag Full Auto Off is another convenient function that notifies you when the shred bag is full and needs to be changed. It's these state-of-the-art features that saves you time and takes the burden out of shredding your documents.
Energy conservation continues to be a top priority at Dahle. Each shredder comes equipped with the revolutionary SmartPower Energy Management System. This multi-stage system reduces power consumption after ten minutes of sitting idle (sleep mode), and completely powers down after an additional 20 minutes of inactivity. Dahle SmartPower will appeal to those interested in conserving energy as well as reducing electrical costs.
Dahle's shredders are made in Germany using the latest technology and finest materials. The end result is a quality machine and peace of mind in knowing your Dahle shredder will provide many years of trouble free operation.

DAHLE CleanTEC® Shredders available for small business
CleanTEC® models 41214, 41314, 41322, 41330 & 4133
The Future of Data Security is here! The DAHLE CleanTEC® Shredder is the most technologically advanced shredder ever developed and features the world's first shredder with an integrated dust filtration system. These intelligent machines are also equipped with revolutionary features such as DAHLE CleanTEC® Filtration, Safe Technology, ESP Protection, SmartPower Energy Management, and an automatic EvenFlow Lubricator.