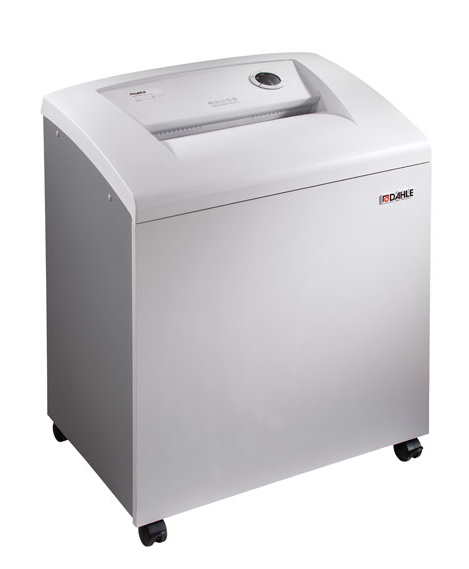 Dahle Small Department Document Shredders are made in Germany using the latest technology and finest materials. Teams of employees will benefit from the shredder's powerful motor and large storage capacity. Usually kept in centralized locations, these shredders make a nice addition to any large office.
Powered from a continuous duty motor, a steel chain and gears are used to provide slip free power to the cutting cylinders. It's the strength and durability of these components that provide maximum shredding capacity and longevity. *Removing staples and paper clips are a thing of the past. Dahle shredders can easily accommodate these items without harming the machine and saving you time in the process *(excludes 41530). These shredders are equipped with SmartPower to reduce power consumption and conserve energy.
Dahle's shredders are made in Germany using the latest technology and finest materials. The end result is a quality machine and peace of mind in knowing your Dahle shredder will provide many years of trouble free operation.
DAHLE CleanTEC® Shredders available
CleanTEC® models 41514, 41522, 41530 & 41534
The Future of Data Security is here! The DAHLE CleanTEC® Shredder is the most technologically advanced shredder ever developed and features the world's first shredder with an integrated dust filtration system. These intelligent machines are also equipped with revolutionary features such as DAHLE CleanTEC® Filtration, Safe Technology, ESP Protection, SmartPower Energy Management, and an automatic EvenFlow Lubricator.