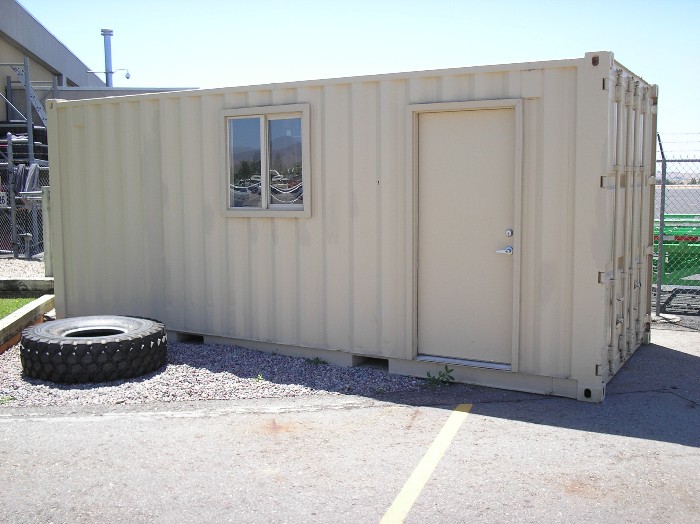 Conex Box Repurposing and Modification
Vital Valt partners with Ebtech Industrial to customize and modify Conex Box Based Units and manufactures conexes to clients' specifications.
Our base platforms include 20 and 40 foot freight containers that are converted into single or multipurpose ISBUs, or Intermodal Steel Building Units. Ebtech sandwich systems are used to address customer requirements whether they are driven by insulation, climate control, or ballistic and blast mitigation concerns. Ebtech provides durable, economical, and attractive modular designs for industrial, military and emergency housing solutions.
Types of Conex Boxes
Single Use These are new containers that have had one load shipped in them. By allowing a shipper to use the container for a single load, our cost to position a new container into North America is reduced significantly. These savings are reflected in the price to you.
Cargo Worthy – This quality of container can be used in containerized export shipments. Cargo worthy containers must meet standards of structural strength and be wind- and water-tight. Containers meeting IICL 5 standards generally are of a better quality than containers showing as just cargo worthy.
Wind and Water Tight – This conditional information indicates that the container is dry and suitable for storage. Regrettably, some sellers are using temporary repair methods in order to state that the container is "wind- and water-tight."
As Is – This condition should alert the buyer that there may be damage to the container that could be expensive to repair.
Warranty
Used containers are normally sold without a warranty. The best protection for a buyer is to purchase containers from a reputable supplier with a warranty.
Projects Include:
Modular prefabricated Green Building Systems
CHU – Containerized Housing Units
Container Homes (multiple unit)
COH – Containerized Office Units
Office Buildings
Portable Construction Site Offices
Sleeping Quarters, portable Shower/Toilet Units
Specialized Storage Units
Mobile manufacturing Process Containers
Mobile Data and Communication Centers
Remote Power Stations
Shelters
Emergency Disaster Relief Units
Refrigerated Containers
Heat resistant Containers (more than 2000° F) with a Fire Rating >3 Hours
Medical Hazardous Materials Units (ISO Ward™)
EMI/RFI shielded Containers
Units with Blast and Ballistic Protection
Military Units for a Variety of rapidly deployable, customizable systems
Expandable Containers
SCIFs