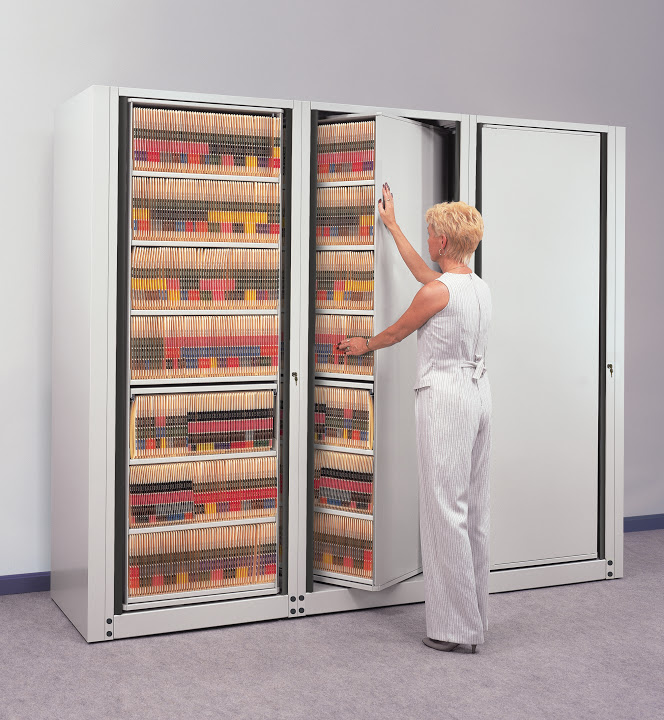 The ARC Rotary File includes two back-to-back inner cabinets which rotate as one unit inside a larger outer cabinet. Access to media can be from the front only, or from both the front and back. Just a push on the full-height finger pull moves the rotating unit to reveal either one of the back-to-back cabinets, or a steel panel which serves as a locking door. A spring-loaded detent effortlessly centers the cabinet-no clumsy foot pedal is required.
ARC Rotary Files are available under GSA contract. Please contact us for more information.
ARC with end-tab filing saves up to 50% of the valuable floor space used by conventional drawer files. With no drawers or doors protruding into the aisle, minimal access space is needed for this unique 2-in-1 cabinet.
In addition, you can achieve maximum filing density by using up to 8 shelves instead of only 4 or 5 drawers high in a lateral or vertical file. As a result of all these advantages, ARC Rotary Files will typically save you money compared with conventional file cabinets.
Quicker access to files means improved productivity with ARC Rotary Files. Instead of pulling out heavy drawers and thumbing through files in a conventional drawer cabinet, you can stand in front of an ARC Rotary File and select the right file in an instant.
End-tab files are in plain sight and fully accessible on shelves, speeding up the whole process. If the file needed is on the back side, just a push rotates the unit so the file is accessible. And multiple access achieves even more efficiency-you can file from both front and back with ARC Rotary Files.
ARC Rotary Files fit in almost every office setting. 7 and 8 tier models provide maximum filing density-use them against walls, or placed through a wall and accessed from offices on both sides.
Security comes automatically with every ARC Rotary File, as locking doors are standard. For additional security, rollout drawers are available with individual locks where more valuable items or files need to be available to only a few users.
In the front office, or anyplace where professional appearance is important, you can use ARC Rotary Files with confidence. ARC's clean aesthetics are further enhanced with a full range of standard colors to choose from-and custom colors are available, too.