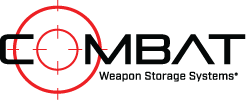 Combat Weapon Racks quickly become lockable Mobile Weapon Carts with the addition of our mobile base. The mobile base is a separate base that bolts through 4 pre-punched holes in the corners of the weapon rack, allowing single tier Combat Weapon Racks to be transportable with ease.
Weapon Storage: Stores 12 rifles & 12 pistols (can also store 6 M249s)
Using 5″ heavy duty 1,200 lb. capacity casters, lockable mobile weapon carts roll with ease inside armory facilities or even outdoors to take to the range.
Weapon Racks can be placed individually on a mobile base or we can have racks configured back to back on a single base to transport multiple cabinets at the same time.
Deployable Weapon Cabinet National Stock Number: (PN CWR7) 1095-01-612-1533
Weapon Storage: Stores 24 Rifle Capacity
Combat Weapon Carts are an open cart system with optional eyelets available to run cables through as an added option.
Weapon Cart National Stock Number: (PN: CWR50) 1095-01-620-5551
Page ID: 8770