Combat Mobile Weapon Shelving Systems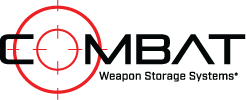 Combat Mobile Weapon Shelving Systems allow for the greatest weapon storage density over free standing weapon storage systems. By placing Combat Weapon Shelving onto moveable carriages, arms rooms, armories, crime labs, evidence vaults and property rooms can store weapons systems in a compact and secure organized fashion not always available with fixed weapon storage systems.
Combat High Density Weapon Shelving Systems are available in electric and mechanical assist drive systems with security and safety features in place for a safe working environment.
Components for Combat's Weapon Shelving Systems include saddles for barrels, horizontal mounts, adjustable weapon holders, spare barrel supports, pistol pegs, adjustable shelves and bins for multiple storage requirements. All components are available individually for independent adjustability inside the modular weapon shelving, offering the maximum efficiency, adaptability and storage capacity in a small footprint. We also offer hand gun lockers for individual security requirements. Custom components are available to meet the changing weapon systems currently coming to market or for custom weapon shelving configurations.
Combat Weapon Storage Systems are available as stand-alone weapon racks or mounted to moveable carriages for a compact storage system. Our expert system designers are standing by to help implement the most efficient, space effective armory design available.
Mobile Weapon Shelving Systems are a Combat Weapon Storage specialty. We've installed well over a million miles worth of track over the years as a corporation including some very large arms rooms.
Page ID: 1747