Combat Mobile Weapon Rack Systems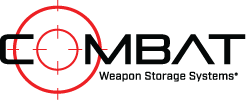 Combat Mobile Weapon Rack Systems allow arms rooms, armories, crime labs, evidence vaults and property rooms to store weapons systems in a compact and secure organized fashion not always available with fixed weapon storage systems.
Utilizing Mobile Storage, Combat High Density Weapon Racks are mounted to moveable carriages that slide from side to side in your armory. Combat Mobile Weapon Racks are available in electric and mechanical assist drive systems with security and safety features in place for a safe working environment. Combat Mobile Weapon Racks are also available as lateral mobile weapon storage systems.
Mobile Weapon Storage Systems allow the armorer to mix and match weapon racks with storage shelving for tripods, mounts and weapon attachments not required to be stored inside secure weapon racks. In addition to weapons, pelican cases, NVGs, bayonets and other miscellaneous items inside your arms room can be stored within the Mobile Weapon Rack System.
Combat Mobile Weapon Racks can be implemented inside existing arms rooms or installed in portable armory facilities or modular armory buildings. The key for a mobile storage installation is to reduce the footprint required to store your weapon density list by adding additional racks installed on carriages where an aisle would be in a free-standing system.
Combat High Density Weapons Racks Dimensions will vary based on your space available. Our systems are designed to fit the tightest spaces including a variation in rack heights and widths. Contact us today for a free, no obligation site survey to go over your storage requirements.
A critical element when choosing Combat Mobile Weapon Racks for your armory is identifying the installation challenges. Mobile storage installations require certified installation teams as there are specific installation requirements for installing these systems. Combat Weapon Storage Systems has installed high density weapon rack systems from coast to coast and globally in South America, Asia, Europe and Africa.
Page ID: 1742